Wow… This was the easiest Monthly Releases post I've ever written yet!
October 2015 is a pretty dull time to be an otome gamer unless you're interested in any of the ports and remakes coming out this month. At least this month is a reminder for me to finally play Ayakashi Gohan. Speaking of honeybee, they've also delayed Starry Sky ~Spring Stories~ to be released during sometime in 2016.
An "announcement" of sorts: I've decided to no longer publish detailed information about fandiscs and direct sequels. The information of fandiscs/direct sequels can often be spoiler-ific (even without me realising due to not having played the original games) and it's better off to just not include them. In the process of trying to police them, I've also come close to spoiling myself a few too many times so I'd like to avoid that as well.
Last, but not least, Art Move Corporation, a.k.a. QuinRose, has allegedly gone bankrupt and stopped operating as of 25th September, 2015. I've briefly written more about this after the "Read More" tab.
New releases
| | | |
| --- | --- | --- |
| Title | Release Date | Platform |
| Ayakashi Gohan ~Okawari!~ [Info] | 30-10-2015 → 27-11-2015 | PC [Fandisc of "Ayakashi Gohan"] |
Ports/Remakes/Re-releases
| | | |
| --- | --- | --- |
| Title | Release Date | Platform |
| Ayakashi Gohan ~Oomori!~ [Info] | 8-10-2015 | PC → PSV [Port] |
| Code: Realize ~Guardian of Rebirth~ [Info] | 20-10-2015 | English localisation [PSV] |
| Shinsouban Majo'ou [Info] [Cancelled due to QuinRose going out of business] | 22-10-2015 | PSP → PSV [Remake] |
| Shinsouban Heart no Kuni no Alice ~Wonderful Twin World~ [Info] [Cancelled due to QuinRose going out of business] | 29-10-2015 | PSP → PSV [Remake] |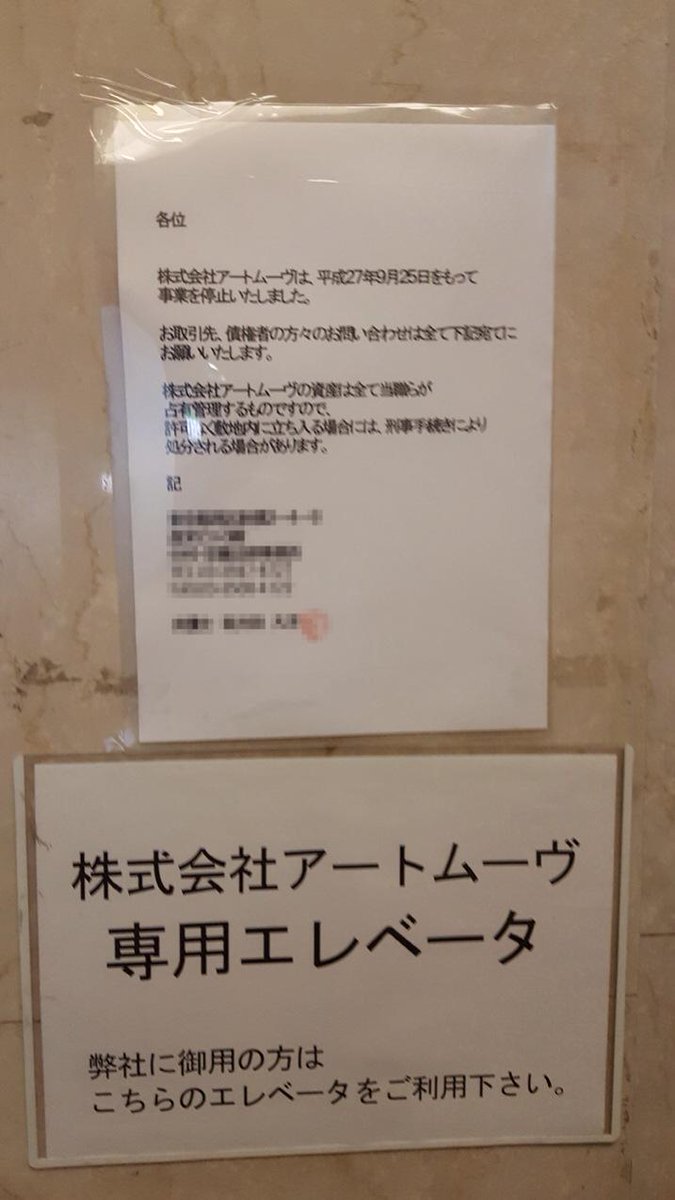 News of QuinRose's supposed bankruptcy spread amongst otome fans of 2chan and Twitter when the image above was uploaded by a yet-unknown source. If the source can be wholly trusted, this image is of the public notice found taped-on near the company's entrance elevator.
The details pixellated towards the bottom of the notice is speculated to be the contact information of the company's lawyers or some other organisation that is now responsible for QuinRose's public affairs in the wake of their bankruptcy.
At this time of writing, QuinRose themselves have not confirmed nor denied the rumour. For this reason, some denizens of 2chan's "Anti-QuinRose" thread have suggested that this is a publicity stunt designed to draw attention, but I can't say that has much merit. Ignoring the fact that there are far more effective ways to draw attention… If it were the case, you'd think they'd spread the news all over. Moreover, I doubt potential customers would want to buy their games (especially download versions) after hearing that the company is going bankrupt. Doesn't hearing that make you want to cancel your orders? I would!
So… What do I think? I definitely think this is true. It would certainly explain the slowed output of completely new games and the porting/remaking spree QuinRose has been going on. Perhaps the financial troubles had been mounting for some time, so QuinRose had to switch to the "low cost to make, high output to appeal to many" strategy…
The problem with this is that while ports are far cheaper to make, in the end, they're the same game and very few people actually want to buy the same game with just a few new things. While R18+ porting to all-ages makes some level of sense, porting the same thing to a new console when some of the games they choose to port aren't even that "outdated" seems like a waste of money to me.
Their first game came out in 2005, so QuinRose has been around for roughly 10 years… That's not bad, really, considering how many otome companies don't even make it through a third of that period. Why did they fall? IMO, the main issue with QuinRose is their lack of innovation… even for otome standards. Furthermore, they hired top-class seiyuu- which would have cost a small fortune- and they had too many love interests. This would only compound the seiyuu problem and create another- more money spent on writing and developing CGs.
Speaking of CGs, their artwork wasn't varied enough. Fujimaru Mamenosuke's clean, neat and "safe" artstyle- while not bad- isn't very "unique", and even if it were, people do get sick of seeing the same artwork if they're flooded with the same content over a short period of time. I certainly do!
I even get sick of hearing the same seiyuu. Anyway, their character designs were quite uninspired and bland, even when the settings of some of their stories were the perfect chances to go nuts in the artistic department. In other words, the designs don't "pop". They don't demand attention. While they won't make me frown in disgust, they won't even pull my focus. From a marketing perspective alone, that's bad.
Some fans have been mentioning hopes of QuinRose getting bought out by a larger company such as Otomate, Rejet or honeybee, but I'd be surprised if that happens. It wouldn't be a wise business decision, given QuinRose's now fairly divisive reception in the otome game community and lacklustre sales.
While I'm not surprised this happened, I do think it should act as a reminder to all that even seemingly "big" companies aren't safe. Latching onto the same "successful formula (in QuinRose's case, this appeared to be famous existing story + in-demand seiyuu + titilating-but-not-outright-explicit content = WIN)" for years eventually makes it lose its lustre.